An Online Marketing Specialist You Can Trust
Our Company is committed to helping your business succeed online. We personalize each web marketing package to fit your needs and consult with you personally on how to increase your exposure online. With nearly 20 years consulting on an international scale we have helped many individuals and business' explode their online profits.
We are an Ohio SEO web marketing firm providing full services to Northeast Ohio and Western Pennsylvania. We service local business' around the: Pittsburgh, Cleveland, Akron, Youngstown/Warren and all other surrounding areas. We also service clients on a global scale including dental sites such as emergencydentistsanjoseca.com.
Many customers we talked to have stated that they have been burnt by SEO firms before. We can assure you that everything we do will be totally transparent and you will receive several monthly reports showing your traffic, rankings and more.
Our web marketing packages include: Mobile Marketing Setup and Administration,( including SMS Text Message Campaigns and Mobile Pay Per Click and Pay Per Call Management). Search Engine Optimization, Pay Per Click Management on Both Search & Display Networks, Email Marketing Campaign Hosting & Management, Web Design for Both Mobile and Internet Browsers, Social Media Integration, Video Marketing, Split Testing & Google Places Management.
Today market requires an array of different online locations to cut into effective local search. Major study's have indicated that if your business is not found online by today's savvy consumers you could be left in the dark. Search engines are the number one way consumers find local business's and this online trend is only going to continue in the future. In addition to this, according to the TMP marketing local search study's, consumers using local search is increasing year over year. Also, the emergence of mobile and social media local search is one of the quickest growing areas. Business that fail to adapt to changing behavior on how their prospects find them will undoubtedly face the consequences.
Here is a quote from the study:
"During a breakout year in which total U.S. searches increased by 13.8 percent — from 21.9 billion a year ago (and, yes, Google still "owns" search) — Bing, Facebook and Twitter were just some of the major players to introduce enhanced local-search features. While search is undoubtedly increasing, the aforementioned enhancements indicate that the media landscape is evolving to the point that online search, mobile media and social networks are converging on local markets."
Here are the actual statistics from this study that monitored over one million Internet users showing how they are finding your local business. If you add up the online sources from the demographics it shows that 82% will be searching for your business using online resources with the search engines rated at the top of the list. All indications are that these search trends will only increase in the future.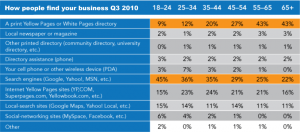 If you would like a free, no strings attached consultation on how we can help your business online then please contact us now  by clicking here.